Professional painters at your service
Painting Projects
Every painting project is different. Some want to update kitchen cabinets and others need help with their bedroom colors. Or may be you want to repaint your bathroom and not sure what type of paint to use. We can are here to answer your questions and get it done!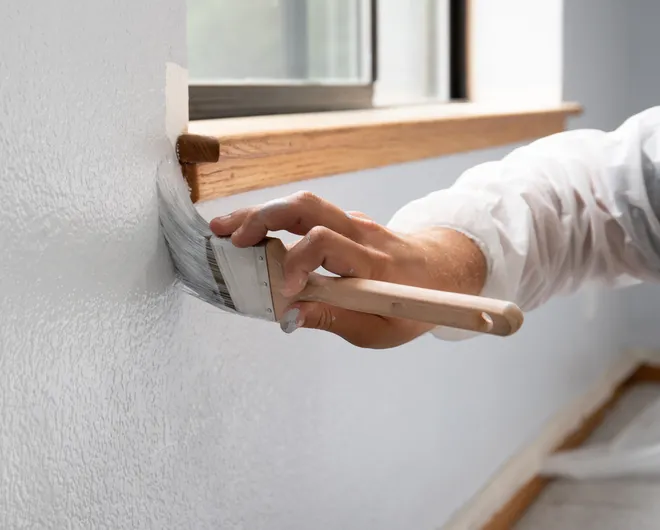 Why hire a professional to help with your painting project?
Preparation. Preparation is key to a good paining job that looks great and lasts for years. Cleaning and polishing surfaces, so that paint sets well. Priming or selecting appropriate paint that wont leak through color, taping off windows and edges before the painting can even begin. We do that for you, ensuring that your home and furnishings are protected and look it's best.
Our Expertise. All paints are not created equal. Our paint professionals know what type of paint is best for interior jobs, special areas like kitchens and bathrooms, outdoor spaces, and more. This helps to ensure the quality and longevity of the finished product.
The Right Tools. Most homeowners don't have the complete array of painting supplies needed to complete a job. But we do! We have the tools and equipment to handle any painting job from start to finish.
Time Saved. Most of our customers are pressed for time, which is why they inquire about our painting services in the first place. Save your time and energy for things you enjoy and let us do this job for you.
Licensed & Insured. As expert painters, we are fully licensed, insured, and prepared to handle any general painting project. With this knowledge, you can sit back, relax, and know that the job will get done to your satisfaction.
Interior Painting
When it comes to interior paint, the color, texture, and placement can make all the difference in the look and feel of a room. We can help you transform your indoor living spaces with painting services that are customized to your needs. As interior painters, we know what types of paints and finishes are best for different rooms, how to use color to convey a certain mood or feeling, and how to get the job done right so your new paint job will last.
Our interior painting services include:
Kitchens
Bathrooms
Living rooms
Dens
Basements
Garages
Bedrooms
Hallways
Stairways
Game rooms
Movie rooms
Accent walls
Wallpaper
Drywall
Doors and frames
Cabinets
Windowsills
Exterior Painting
We provide a variety of custom exterior painting services. Whether you'd like to update your home's traditional exterior or you're hoping to present a more modern curb appeal, our painter professionals approaches every exterior painting project with detailed knowledge needed to do the job right.
Let us help you. Experience the best service in the industry at the best price.